At a school where Quantum Paradox 101 is a required course and history field trips are literal, sixteen year-old traveler Bree Bennis excels...at screwing up.
After Bree botches a solo midterm to the 21st century by accidentally taking a boy hostage (a teensy snafu), she stands to lose her scholarship. But when Bree sneaks back to talk the kid into keeping his yap shut, she doesn't go back far enough. The boy, Finn, now three years older and hot as a solar flare, is convinced he's in love with Bree, or rather, a future version of her that doesn't think he's a complete pain in the arse. To make matters worse, she inadvertently transports him back to the 23rd century with her.
Once home, Bree discovers that a recent rash of accidents at her school are anything but accidental. Someone is attacking time travelers. As Bree and her temporal tagalong uncover seemingly unconnected clues-a broken bracelet, a missing data file, the art heist of the millennium-that lead to the person responsible, she alone has the knowledge to piece the puzzle together. Knowledge only one other person has. Her future self. But when those closet to her become the next victims, Bree realizes the attacker is willing to do anything to stop her. In the past, present, or future.
So before I start, shoutout to Jessica Brooks! This lovely lady sent me Loop for Christmas! Go check out her blog
here
, and you all should totally read her books! (I'm doing a review on Pity Isn't an Option as soon as I finish retyping this one!)
This book though. The cover the time travel and romance. The everything about it. I was dying to read it since Jessica sent it to me. Life intervened, and I've only just gotten to it. But gosh dang, I love everything about it.
The book started out wonderful. Karen slowly brought you into the 23rd century world of Shifters. I get scared with books like these because new futuristic time travelly worlds can be super confusing. But she slowly explained the world to us through Finn and experiences. I understood the world pretty perfectly. I want to be a Shifter though...
Honesty time. I totally fell for Wyck *at first* I probably should have hated him, but I was drawn to him. I shipped him and Bree. I wanted them to be together so bad.
But then...Finn showed up. I guess technically Bree showed up in Finn's world, but I could just tell something awesome was gonna happen between them. I think if an author uses the name Finn that character has to be all nice and sweet and attractive it all just comes with the name. (Like in the Impossible Knife of Memory, Finn was perfect!) Maybe I'll name my son Finn...that'll make him awesome, right?
So so so so much happened in this book. Like SO much. I'm not even going to begin to explain it to you. I'll just ruin everything and accidentally spoil it. But guys, I couldn't stop reading it. It took forever to get through it because school hates me when I'm reading a good book, but every spare moment in class, I read. My teachers probably hated me. I was legit constantly reading.
One night I had some extra time, so I sat down to finish it NO MATTER WHAT. So much happened. The end was amazing. It all just came together. Like almost the entire plot was solved within a chapter or two. It was fantabulous. There's still so much to think about though. There's a huge plot twist with Finn btw.
I forget what I was using this gif for, but I remember I said that something provoked me to laugh insanely at midnight and my parents probably thought I was going insane. Although all of the stupid little jokes and cute things like pegamoos and historical references. They killed me. I'm such a nerd, but understanding them made me proud/happy.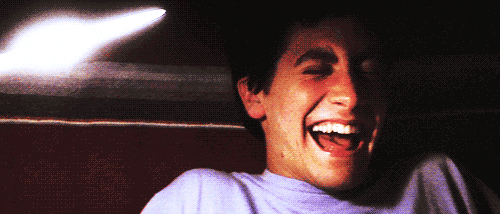 Also, you should totally read Loop because you'll find out who Mona Lisa really is! Plot twist!
BUT WAIT, in the epilogue you find out who Muffy Van Sloot is which ugh...I fangirled so hard during that.
I can't read wait to read more Bree and Finn, guys. (Especially because of the last line in the epilogue) You all should hurry up and read Loop, so we can read Twist together when it comes out on March 31! I can't wait! Go buy them! *makes best attempt at a glare*
Thanks again to Jessica for sending me Loop! *blows kiss* And thank ya to everyone who read this review. You're all lovely, and I love every one of you!